Whether you follow this Instagram guide to Paris or not, a trip to the City of Light will instantly make your Insta prettier, even if you're not trying that hard. Paris just has that way.
A guide to the best places for Instagram inspiration in Paris could easily stretch on and on. And on. But I have hardly been everywhere or seen everything, so here are just a few good not-to-miss spots for snaps.
And when you're done stocking up on square photos, here are some other good things to do in Paris if you're planning to travel there.
Palais Royal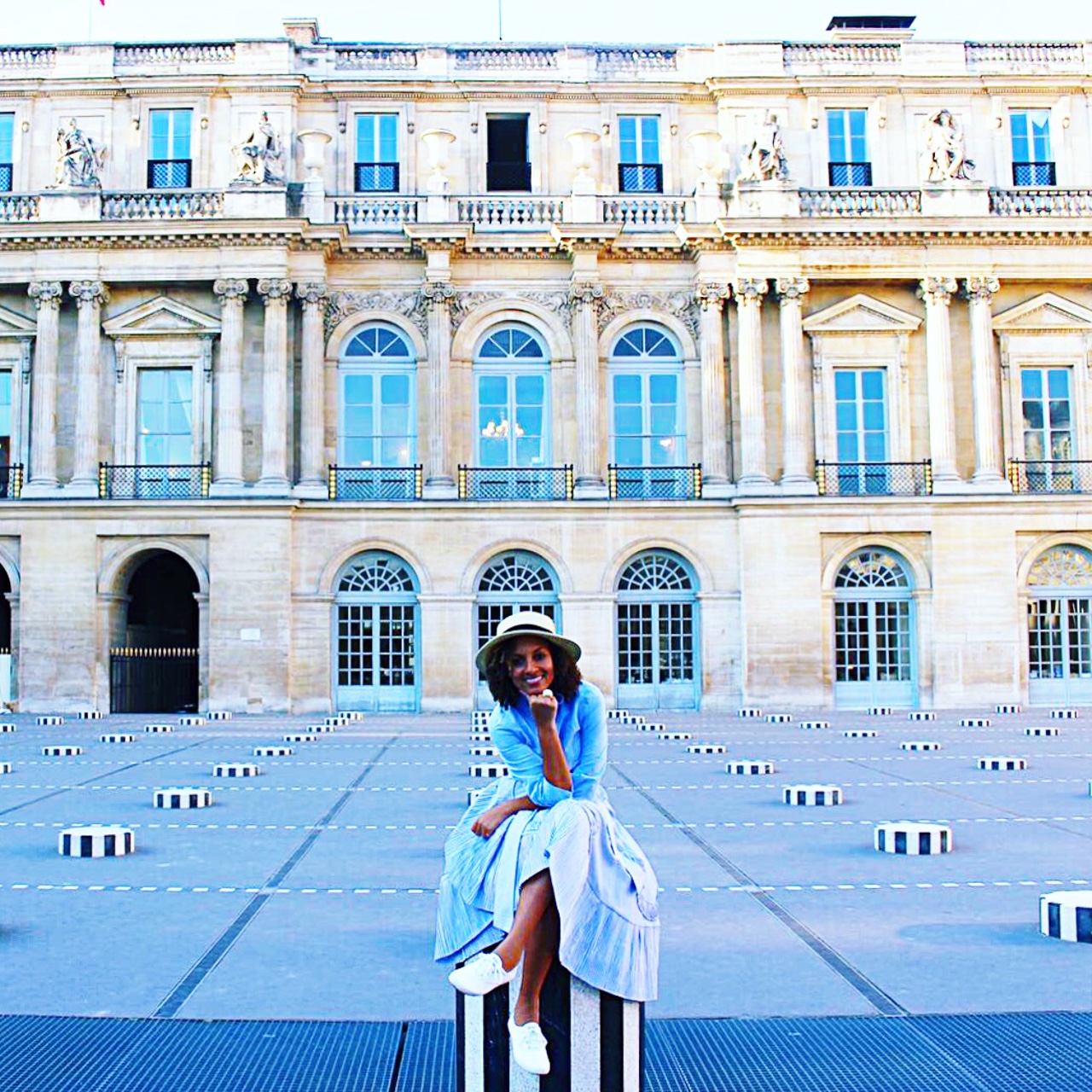 Of all the places I took pictures in Paris, Palais Royal was my favorite. There's just something so commanding about the place, and the architecture is so distinctly French. Just opposite the Louvre, this place (not surprisingly) used to be a palace. The striped black and white columns you'll see everyone posing with are actually an art installation by French artist Daniel Buren, called Les Deux Plateaux, better known as the Colonnes de Buren. The artwork has been a controversial one, since many Parisians felt the 1980s addition spoiled the beauty of the 1630s palace, but as with most art, there are many others who love it. *Pro tip: go early in the morning before everyone else is there trying to do the same thing you're trying to do and they end up crowding your picture.
The clock at Musée d'Orsay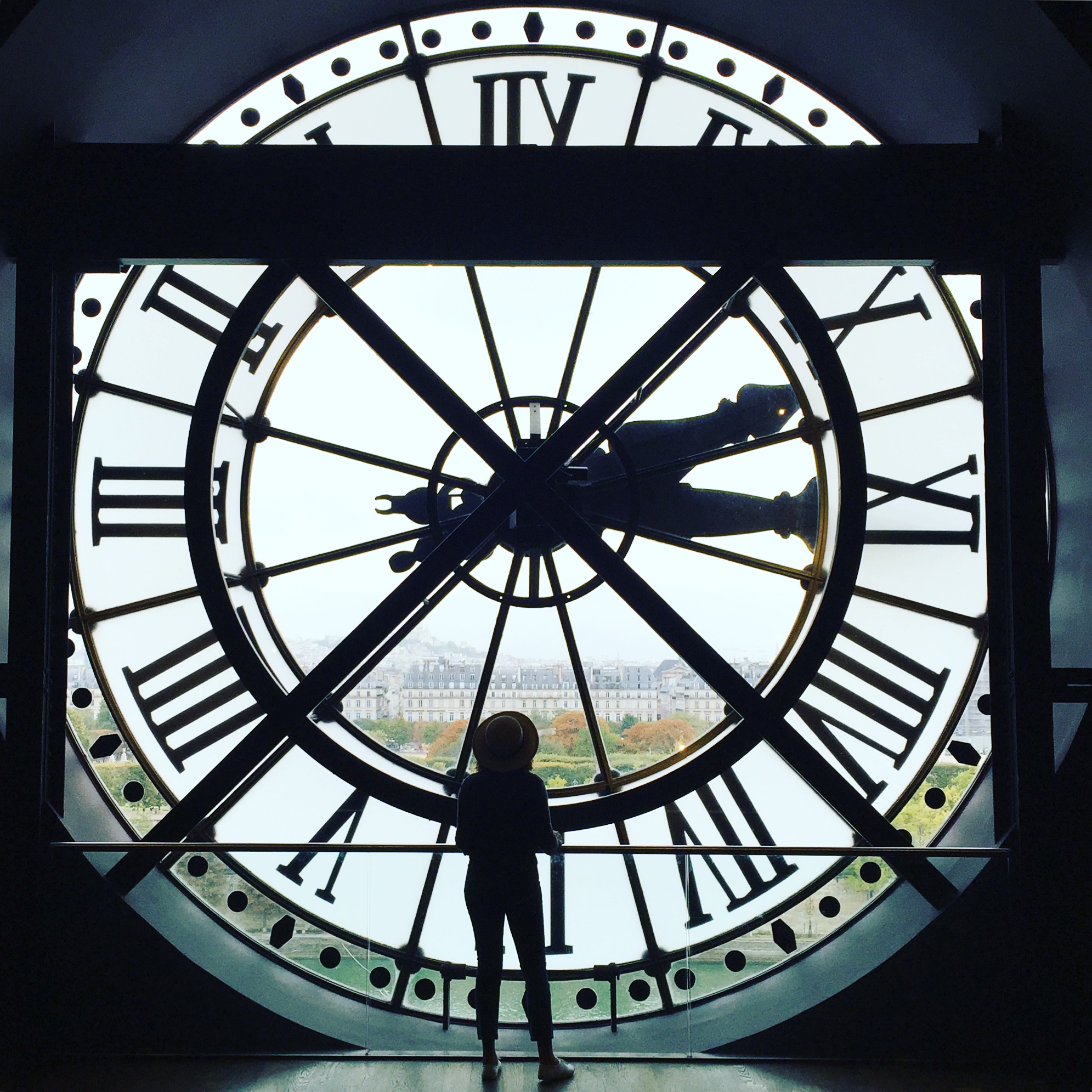 I have to admit, I saw this on Instagram so, so many times before I went to Paris, but I find the photo so cool, I had to join the masses and get a shot too. The bonus with this one though, is that it's just a perk of visiting the Musée d'Orsay, which is a beautiful museum. Get to the museum early, there's always a line before it even opens, so get your tickets online so you can at least stand in the shorter of the two lines. Head straight to the top floor and go all the way to the back on the left, where you'll find the clock very likely free of other people, since most people will start with the art and by the time they make it to the clock, they're waiting in line for their chance at a people-free shot. Don't be like those people. You know what to do now: clock first, art after.
The Eiffel Tower, of course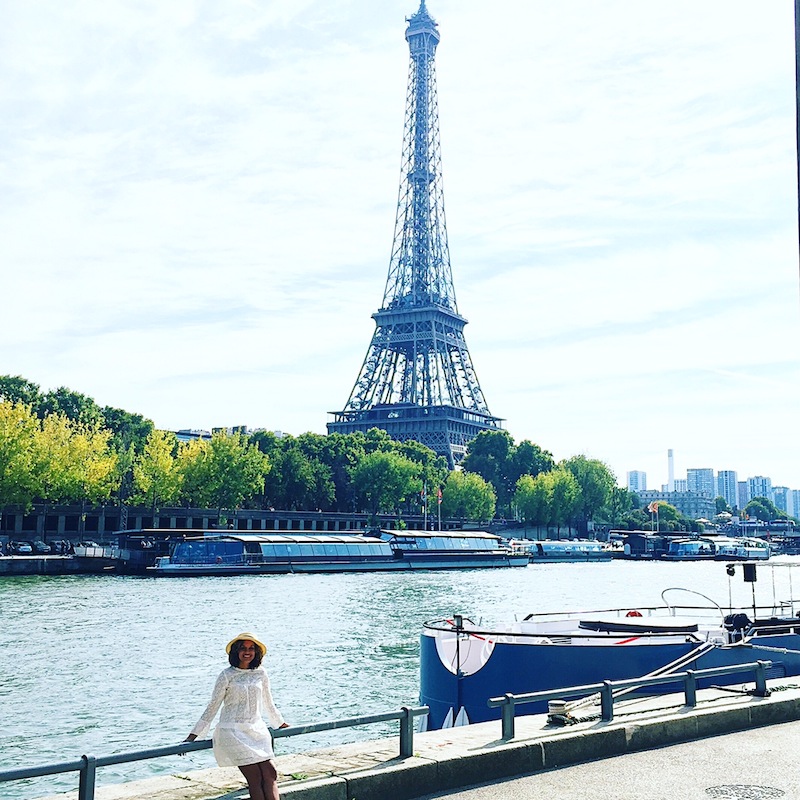 Obviously, you can't leave Paris without a shot of the Eiffel Tower, and there are tons of articles that will tell you the best places to get a good photo of it. The one that seems to top the lists, though, is the Trocadero. I tried this and I will tell you two things: one, it was a very nice view of the Eiffel Tower, yes; but two, if you don't go at the crack of dawn, forget about getting a photo without any other people in it. Instead, head down for a walk along the Seine and get your shot with the bonus of the river behind you.
The Jardin des Tuileries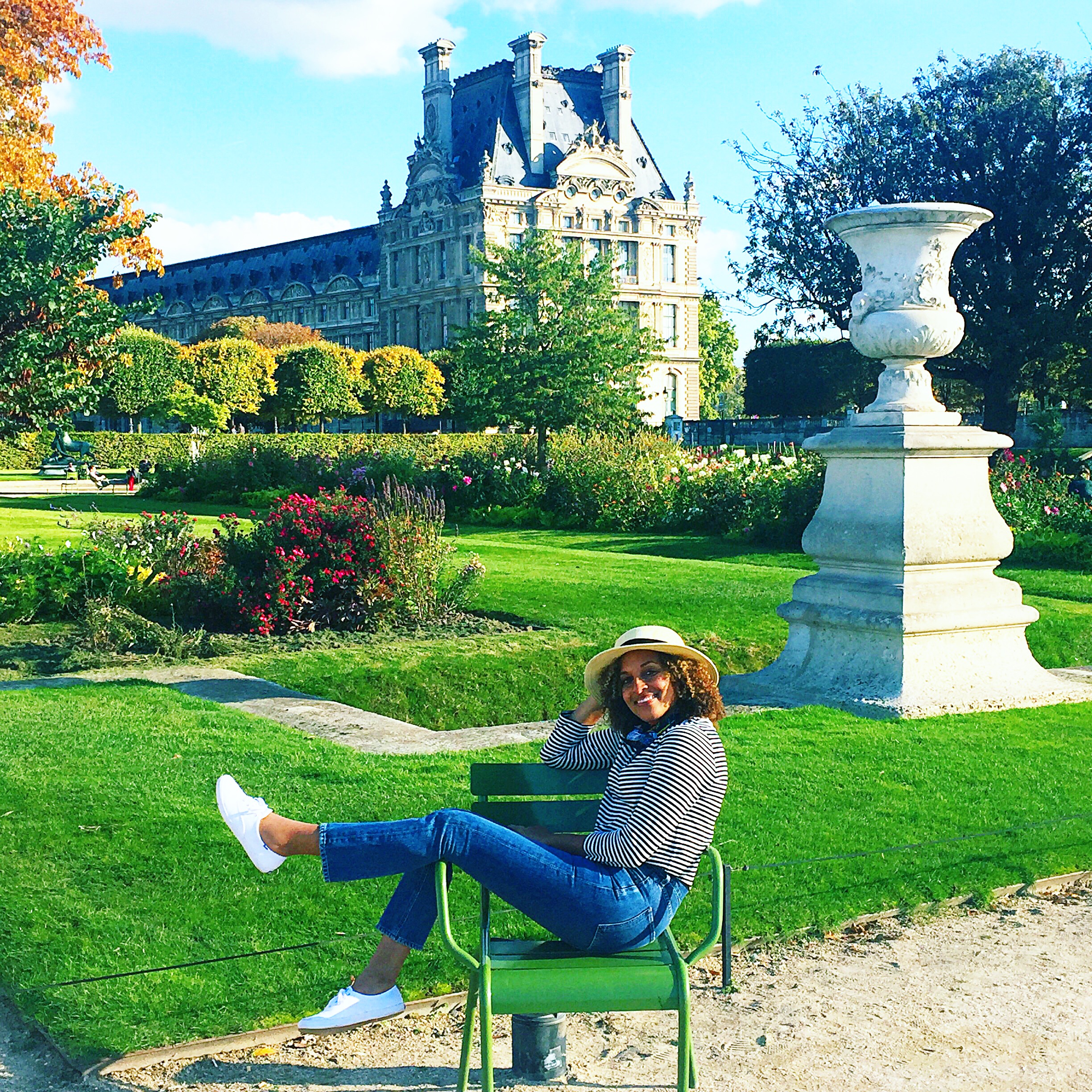 This could easily be one of the most beautiful gardens I've seen. And it isn't especially grand or overly done-up—it's just simple, perfectly manicured and filled with locals just enjoying a park that's become part of their lives. It will be really hard to get a shot without people in it, but if you find just the right spot, it might work out. When I took this photo, there were people everywhere as the weather was beautiful and it was the middle of the day on a Friday, but somehow it worked out that you can hardly see anyone else in the picture.
Ladurée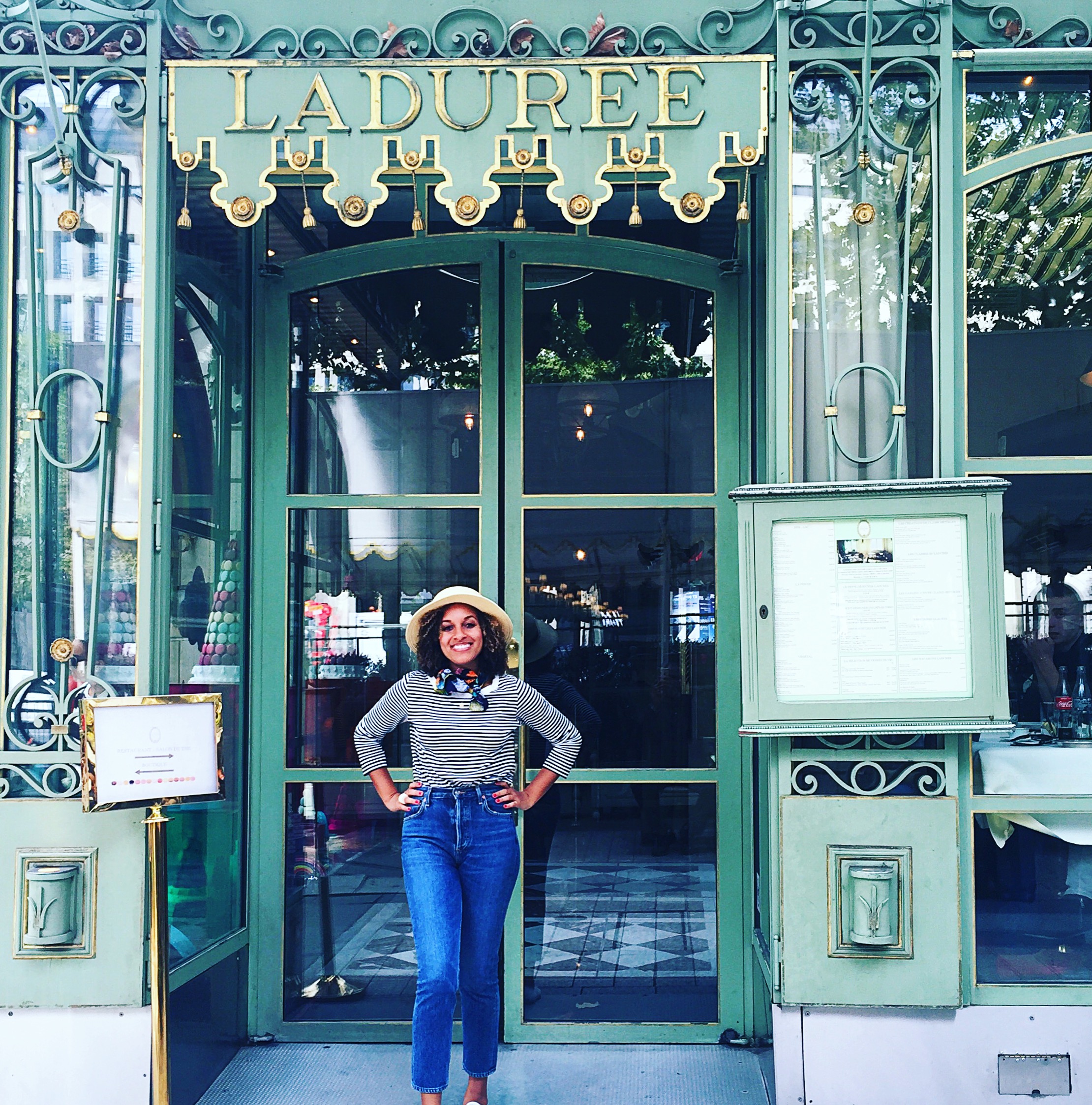 I guess part of being a traveler in Paris means doing the odd touristy thing, and a photo in front of Ladurée would definitely be that thing. This photo is in front of the original Ladurée, founded in 1862, on Rue Royale right at the Champs-Élysées. Fun fact: Catherine de' Medici, queen of France in the 1600s, brought the macaron from Italy to France in the 16th century. Ladurée only became famous in 1930 when the founder's grandson decided to make the biscuit a double-decker and fill it with creamy ganache.
A sidewalk café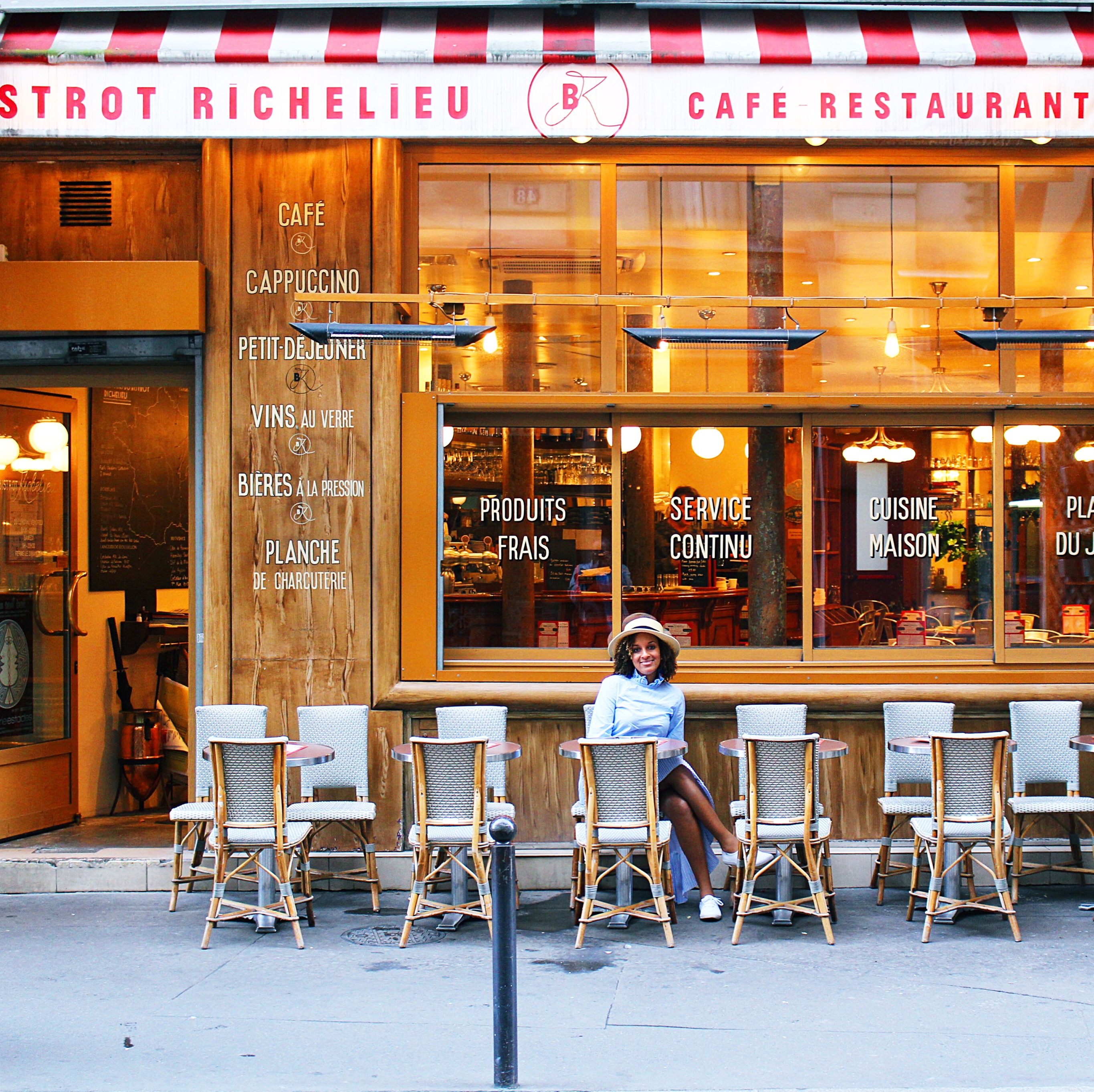 You can hardly blink in Paris without passing by another cafe, some more beautiful than others, but many worth posing with for that very French street life vibe. My advice: try to take a photo at a cafe you also plan to eat at so you don't get yelled at en français, like I did.
Pont Alexandre III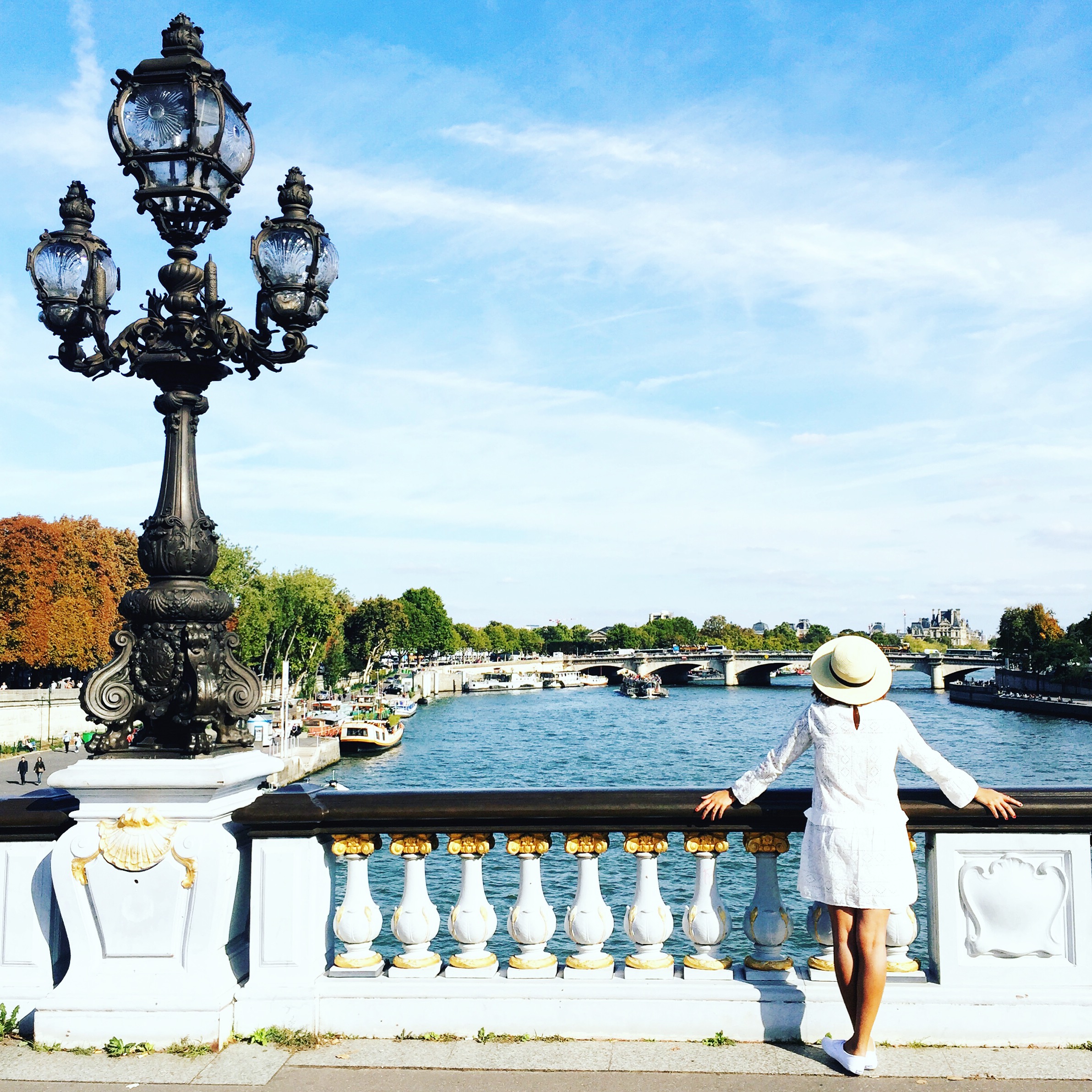 Ah, the Seine. One of the prettiest places to be in Paris and where you'll find Parisians unpacking fancy cheese and a bottle of wine on the banks after work. The Seine, it seems, is the lifeblood of the city. There are 37 different bridges over the river, but Pont Alexandre III, built sometime between 1896 and 1900, is easily among the most beautiful and definitely the most ornate. Put it this way: to my immediate right was a bride posing for photos on her wedding day. The bridge has been in a bunch of movies, including Midnight in Paris and the James Bond film A View to Kill. Plus Adele shot her music video for the song "Someone Like You" on it.